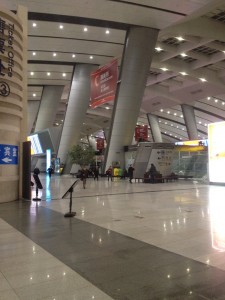 I am on the training travelling from Beijing to Shanghai. This is my first experience since the fast train service was established in China. In the past, it used to be 12 hours to commute between Beijing and Shanghai over the night. But now, with the fast train service, the commute time has been shorten to 5 hours.
The training station in Beijing is in Beijing South, only 15 mins by taxi. Facility was newly re-modeled with modern looking. My original schedule was 8am on Monday. I left home around 6:20am, then arrived the training station about 6:40am. Why not catch an early training instead of waiting in the train station. Yes, I did and it did not cost me anything to change the schedule. Wonderful! So I caught an early training left Beijing South at 7am. I am supposed to be in Shanghai around 12:23am. On the way, the train will make 3~4 stops with 2 mins break at each station only.On the way going there, the train speed keeps around 304km/h.

I bought a 2nd class ticket, which only costs me 555RMB (equivalent to $88 single way). I think the first class ticket is around 990 RMB. As for seating place, it's relatively comfortable. And the space btw seats is bigger than I thought and seat itself can be moved back forward. Compared to coach experience on a flight, it's much much better. Rest room is located on every other coach. Occupancy rate is around 40% maybe because of early schedule.
Overall experience reminds me the train system in Europe. People used to have pretty good comment on Eurostar, I would not score low for this new train system between Beijing and Shanghai. The only thing they need to consider for future training system is Wi-Fi connection.