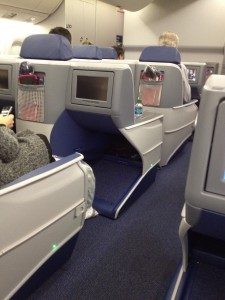 New Experience with Delta>Beijing Business Class
Dec 8, 2011, I followed my schedule travelling from Seattle back to Beijing. As soon as I checked in, I surprisingly found out I got upgraded from Economy Comfort to Business class. Wow…how wonderful! The flight is scheduled during Seattle evening time, so it means I can have a good sleep on the way. I think it's because of Christmas overbooked tickets.
Good thing keeps happening. As soon as I was onboard, brand new business class shows in front of me. A flight attendant told me that they changed all business class to Beijing about 2 months ago. I was so excited and can not wait to experience the new seat. Even better, she told me that the seat can be flat, what a joy!
The new design is to have all your control buttons located on one side with brand new panel board. I can tell they re-locate power access plus-in from lower seat location to upper place, which is much convenient to use. Also they add a new USB access plug in to be convenient for iPhone or other mobiles. I love this part. However, it does not have a personal storage room. Not like 747, each passenger has its own personal storage room where you can put your readings, noise cancelling headsets, laptop and etc. See in the middle of the board where you can rest your arm, originally I thought it can be opened as storage space. But it's not, it's for table. They hide a foldable table underneath. Em…I feel space can be better used as I really do not know what's underneath the table. It looks deep, but do not know what's inside.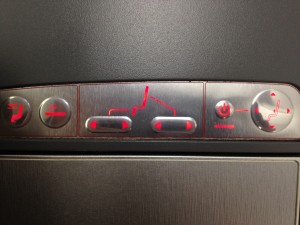 OK, let's take a look the seat itself. The good thing is this seat has massage function! Though it's not fancy, at least it adds a big fun somehow. And the other outstanding function is it can be flat and TV screen is much bigger. For the downside, I do not really enjoy the room where you put your feet and legs. That space is quite narrow if you are a big guy. Though the seat can be flat, it's not easy to bend your knees as part of the leg room is in the back seat of the passenger sitting in front of you.
What else? I think I'd score the seat 7.5 out of 10.