Finished a short trip in Xi'an, had some amazing experience in this old city. I hope this is something will be kept and promoted in the cold and financial-oriented society of China.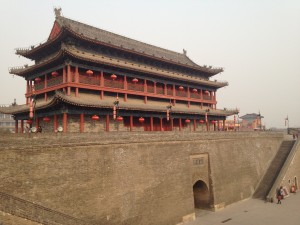 My flight landed in Xi'an airport on Dec 14th late evening. Without any difficulties, I quickly found a taxi. The taxi is in black color, old China brand car with a big crash on windshield. My first impression is whether this is an illegal taxi, but a private car who runs their own business. With the taxi miles counting machine listed in the front, I thought it's OK as long as he can provide me a receipt.
Xi'an airport is 40 kms away from the downtown, the car drove in the local highway under a light foggy weather. Taxi driver began to chat with me. He showed me where to go, and where to eat. Something beyond my expectation was he also told me how to avoid overpaid. This conversation made me feel released a bit, at least my taxi fee will not be overpaid. So as a return, I asked him to pick me up 2 days later going back to the airport.
On Friday morning, I had to leave around 7:15am because of my early flight. As promised, he called me at exact 7:15am to ask me waiting in the lobby. Within 2 mins, his car arrived. Same car, same driver and he began to talk about how he helped the other passenger tour around the Xi'an city yesterday and other stories, like how he felt angry because some local tour guys forced tourists pay extra on food or tickets. Once again, I know he is a pretty good honest person who could only follow his rules to run business. I got his business card, his name is Niu.
Then in the last 20 mins on the highway, what he did deeply touched me was a car chasing activity, but I indeed wish more and more Chinese people would treat others the same way. We were about to enter the highway, first thing he needed to do was to pick up a ticket at the entrance. What we found at the ticket machine was a ticket left from the car in the front, however the car left without picking up the ticket. Immediately without think, he picked up two tickets and began to run to catch that car up. The other car is much newer running about over 140km/h. While running on the way, he kept saying "he is such a fool, without an entrance ticket, he'd pay the entire journey which about RMB600~700 RMB. I'd stop him to pass the ticket, I'd stop him to pass the ticket."
After 3 mins chasing, we finally were 3 meters behind that car. Niu began to honk trying to catch the other car's attention, meanwhile he caught up in driving parallel with the other car with one hand holding the ticket showing them through the driver window.  However, the other car did not realize at all even with our noisy honk. The driver kept staring front. And 5 seconds later, the other car switched to our right ready to exit. I saw they switched the direction, then shake my right hand to them. Though my jacket color is bright orange, they still did not look at us. Another 5 seconds later, they merged to the exit lane and we had no chance to pass the card to them.
I thought it's the end of story, but Niu did not think so. He kept talking "it's too bad, I hope they would not pay the full fare. Maybe there would be a chance for them to check in the computer system to find out where they entered the high way etc". The car arrived the airport after 10 mins driving, but my mind could not calm down. Caring others do not seem to be common nowadays especially in some tier 1 cities. Could people still help each other? That's not Niu's business, he could walk away easily. Driving on the high way with over 150km/h is very dangerous. Do he care about his own safety? Why would he do that?
My mind was full of those questions. After all, my conclusion is we still have lots of warm-hearted people in our society. We shall protect them and keep their spirit and passion in helping each other.